Swayne Johnson are Participating in the Macmillan Coffee Morning!
---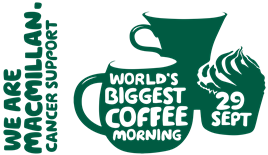 Posted on 25 Sep 2017
After the success of our coffee mornings in 2016 and 2015, we are delighted to report that we will be taking part in the Macmillan Coffee Morning 2017!  The cause couldn't be better – Macmillan Cancer Support is a fantastic organisation that provide much-needed support and guidance to those which have been diagnosed with cancer, and also to help and support the families of cancer sufferers who are also affected by the diagnosis, for both the long and the short term.
Macmillan Cancer Support provides medical, emotional, practical and financial support to a large amount of people affected by cancer every day. Cancer is a disease that can affect people from all walks of life and absolutely does not discriminate between old, young, rich or poor.  Macmillan nurses are there to help – each Macmillan nurse is extremely knowledgeable and are always there to answer the questions which arise throughout cancer diagnosis, treatment, and recovery.
Macmillan nurses help cancer sufferers and their families throughout treatment, and can even help with the day-to-day living of cancer sufferers, from assistance with day-to-day tasks such as shopping to practical advice on financial situations. Furthermore, Macmillan campaign for better cancer care. `
Macmillan's mission of ensuring that no-one has to face cancer alone is a crucial one. It only looks to get more difficult as time goes on. For instance, there are 2.5 million people throughout the UK living with cancer. By 2030 this figure will rise to 4 million, and 5.3 million in 2040.
If you wish to help Macmillan continue to provide this much-needed service to the community, you're more than welcome to join us at our Ruthin, Denbigh, and St Asaph offices on Friday the 29th of September, from 10:00am – 12:00pm.
We'll have a raffle and a great variety of cakes baked by the amazing staff of each of these offices, and of course piping hot tea and coffee and a great atmosphere to enjoy.
We hope to see you there!
---
Further News - Swayne Johnson's Capel Curig Walk »