Jon Moriarty
---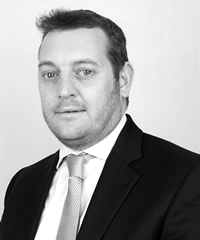 Job Title: Solicitor and Director
Qualification: LLB Hons Accredited Resolution Specialist Trained Collaborative lawyer
Date of Qualification: 2000
Started in: September 1998
Where from: Caerwys, Flintshire
Areas of expertise
Head of Family
What you enjoy about your job
Meeting clients from a variety of backgrounds and being apply to apply my knowledge and experience to enable them to achieve the best possible results.
Other responsibilities and roles
Director responsible for IT, former Chair and committee member of Regional Committee for Resolution (North Wales)and previously secretary to the British Institute of Innkeepers (Wales region).  I have also recently stepped down as a governor (having sat as both Chair and Vice-chair) for a number of years in a local primary school.
About you
Walking (usually accompanied by my Cockapoo!) and golf (when family commitments permit)
Welsh speaker?
No
To contact Jon:
Telephone: 01745 818253
Email: jonm@swaynejohnson.com