Megan Jones
---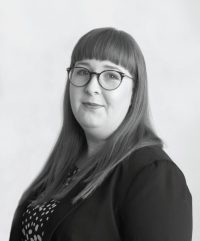 Job Title: Solicitor
Qualification: English BA (Hons), Graduate Diploma in Law, Legal Practice Course
Date of Qualification: 15 March 2018
Started in: 3 June 2019
Where from: Llanrug, Gwynedd
Areas of expertise
I deal with all aspects of commercial property transactions, including sales, purchases, landlord and tenant work and re-finances across a wide range of sectors including retail, leisure and tourism, healthcare, industrial estates and residential investment properties.
I have particular expertise in property finance including development finance, large scale residential portfolio refinances and lending to offshore companies.
What you enjoy about your job
Commercial property transactions have a huge impact on the built environment around us and in turn on our communities, and I love that the work I do enables me to learn the history of places as I help clients to navigate the present and plan for the future. Problem solving, and also spotting and preventing potential problems before they occur form a significant part of the work and this creative element of the work is very satisfying. I particularly enjoy working closely with clients and taking the time to get to know them and their businesses so that I can tailor the service I provide to fit their needs.
About you
I am a passionate music fan and record collector and try to go to watch as much live music as possible, both locally and nationally. I am also an avid reader, and an aspiring novelist.
Welsh speaker?
Yes
To contact Megan:
Telephone: 01492 868864
Email: jonesm@swaynejohnson.com