Accreditations
---
Lexcel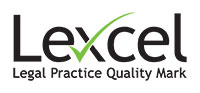 Lexcel is the Law Society's legal practice quality mark for excellence in legal practice management. It is a certification that certain standards have been met in a legal practice, following independent assessment.
Lexcel is only awarded to Solicitors who meet the highest management and customer care standards. Lexcel accredited practices undergo rigorous independent assessment every year to ensure they meet required standards of excellence in areas such as client care, case management and risk management.
Swayne Johnson are proud to hold the Lexcel accreditation for Practice Management.
Investors In People

Investors in People is the UK's leading People Management Standard. It specialises in transforming business performance through people. It is based on the premise of "if you get the people right, the rest will follow".
The assessors from Investors in People act as a critical friend so that businesses maintain continuous improvement. At the heart of Investors in People is the Standard, a framework of best practice that is outcome focused – it outlines what you need to achieve but never prescribes how. This makes it truly flexible regardless of the size of business.
The Investors in People standard recognizes that our organisation is unique, with its own strengths, challenges and priorities. The accreditation is independently assessed and renewed each year.
Conveyancing Quality Scheme
The Conveyancing Quality Scheme (CQS) provides a recognised quality standard for residential Conveyancing. Achievement of membership is based upon:
The integrity of the Conveyancing staff.
The firm's adherence to good practice management standards.
Adherence to prudent and efficient conveyancing procedures through the scheme protocol.
A rigorous assessment is applied for membership and the firm needs to be assessed and reaccredited periodically.
Swayne Johnson is proud to have been one of the first to attain the CQS accreditation in North Wales.
Resolution

This organisation in the leading Family Lawyers association. The members are Family Lawyers committed to the constructive resolution of family disputes. Members of Resolution follow a code of practice that promotes a non confrontational approach to family problems. Members encourage solutions that consider the needs of the whole family – and in particular the best interests of children. All of the Family Law team at Swayne Johnson are members of Resolution.
The Society of Trusts and Estate Practitioners – STEP

STEP is the professional body for practitioners in the fields of Trusts, Estates and related issues. STEP members help families plan their long term financial future, facilitating good stewardship and financial planning across future generations.
Full members of STEP are the most experienced and senior practitioners in the field of Trusts and Estates. Members of the Private Client team at Swayne Johnson are full members of STEP, associate or student members.
Solicitors for the Elderly – SFE

SFE is an independent national organisation of Lawyers, such as Solicitors, Barristers and Legal Executives who provide specialist legal advice for older and vulnerable people, their families and carers. Members of the Private Client team at Swayne Johnson are members of Solicitors for the Elderly and are involved in the local branch. To become a member, Solicitors must establish a set level of experience in advising on the legal issues which affect the older client. Membership is by examination and members of Swayne Johnson Private Client team are full Professional Members, Associate members or students.
Association of Personal Injury Lawyers

APIL members are professionally accredited and have satisfied comprehensive criteria regarding experience and expertise in Personal Injury Law. When you are injured by someone else, it is difficult to know where to turn, who to Trust and whether you are entitled to compensation. By using a member of APIL you ensure that your Lawyer has extensive experience and expertise to conduct your claim. Our Personal Injury team are members of APIL.