Careers at Swayne Johnson Solicitors
---
Vacancies
If you are considering changing the direction of your legal career, Swayne Johnson is always interested in hearing from experienced Lawyers who believe that they can make a valuable contribution to the company. 
Swayne Johnson is an efficient Lexcel accredited Law Company, where training and professional development of our staff is considered a high priority as is the work life balance ethic.
Experienced Lawyers should contact our Managing Director, Sarah Noton, direct in absolute confidence to discuss any potential opportunities.
Contact Sarah: email: sarahn@swaynejohnson.com telephone: 01745 586812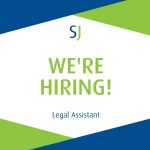 Title: Legal Assistant
Location: St Asaph
Department: Court of Protection
Purpose:
This role is to be the first point of contact for queries received into the team from Clients and co-professionals and to play a key role in managing the resources of the Client. You will be resolving issues for vulnerable Clients on everyday matters or financial problems, in conjunction with the experienced Lawyers and Case Managers.
You will be involved in telephone calls, emails and other correspondence. You will need to find solutions and apply a common sense approach to problem solving and be able to progress tasks to produce a result for the Client. You will be working on our integral case management system to record actions taken and manage the case.
Ensuring the Client is at the heart of what we do, you will establish sound working relationships with them and our team of Lawyers. You will be preparing letters and documents, dealing with statutory authorities, paying bills, conducting benefit checks and other such financial matters.
You will work within a small team and work closely within that team. Supervision will be provided by the Lawyer leading the team.
A formal legal qualification is not required for this role, but training will be provided and there are opportunities to develop and obtain relevant qualifications.

RESPONSIBLE TO: Head of Department
TASKS:
Legal Casework:
Progress all maters with due diligence and without delay.
Answer telephone and email queries relating to cases, prepare letters and other documents.
Record instructions received, advice given and any plan of action on the file for every matter.
Ensure that all key dates are notified to the team, recorded on the file, in a diary system and acted upon.
Comply with the rules set by the Solicitors Regulation Authority in providing information about costs and the firm's complaints procedures after consultation with Lawyer involved in the matter.
Maintain an accurate record of all time spent on each matter.
Provide regular progress reports to the team where appropriate and other interested parties, as each matter progresses.
Submit invoices promptly for work done.
Deal promptly and effectively with monthly financial reports provided by the Accounts Department.
Aim to constantly improve the quality of service provided by the Departmental Team and the Company.
Ensure that the Director of Administration is aware of any additional skills and/or technical knowledge needed to maintain or improve the quality of service provided to clients.

Assist the Head of Department to develop and maintain effective and efficient case management procedures and documentation.
Establish and maintain a rapport with all clients to ensure that they will continue to use and recommend the services of Swayne Johnson Solicitors.
Any other duties required by any of the Directors on legal matters within own capabilities.
Qualities required:
Integrity
Efficient and diligent
Organised and excellent attention to detail
Tenacious
Ability to deal with complex and difficult situations with compassion and empathy
A can-do approach
Apply common sense to achieve practical results
Ability to research and present findings
Excellent timekeeping
Other:
A DBS check will be required
Be fully conversant with all policies in place and issued from time to time by or on behalf of the Directors.
Ensure compliance with all Health & Safety requirements as detailed in the Health & Safety Policy
Be fully aware and comply with all instructions and procedures in the Practice Manual and the Staff Handbook.
Fully comply with any additional instructions issued from time to time by or on behalf of any or all of the Directors.
Please contact :
Gareth Davies, Director of Administration at 2 Hall Square, Denbigh, LL16 3PA or email garethd@swaynejohnson.com
Vikki Tomlinson, Practice Administrator, 2 Hall Square, Denbigh, LL16 3PA or email vikkit@swaynejohnson.com
Swayne Johnson Solicitors are leading providers of high-quality Private Client law services across North Wales and beyond.
Due to the continued growth of our highly successful Private Client department, the firm is looking to appoint qualified Solicitors/Chartered Legal Executives committed to developing their career in private client law and looking for a long-term opportunity to join our reputable and thriving team.
Candidates must be commercially aware, highly organised and able to demonstrate technical expertise, knowledge and experience sufficient to take on their own caseload to include the following:-
Wills;

Powers of Attorney;

Administration of Estates;

The creation and administration of Trusts;

Court of Protection (applications and pre and post Order management of affairs);
Candidates must have excellent communication skills; the ability to develop long-lasting, trusted relationships with new and existing clients is essential for this role. A commitment and enthusiasm towards business development and marketing will be an advantage.
The ability to communicate in Welsh is desirable but not essential.
The successful candidates will join a busy and established department of over 20 individuals each of whom is part of a smaller team. There is a strong team working and friendly culture within the department where individuals are encouraged to share knowledge and support one another. The firm has a proven track record of training and developing its people. This is an exciting opportunity for the right candidates to obtain the necessary experience, support and encouragement they need to achieve their career goals.
The successful candidates should be able and willing to travel between all our firm's offices, to clients' homes and other property as and when required (subject to adherence with current COVID guidelines).
We offer a competitive basic salary and benefits along with a commitment to training and development.
Applications are encouraged from those who have between 0 to 5 years post-qualification experience. This is a fantastic opportunity to take on a challenging role with high quality work.
To apply, please contact Gareth Davies, Director of Administration at 2 Hall Square, Denbigh, LL16 3PA or email garethd@swaynejohnson.com