Brenda Roberts Gets Gold At The World Transplant Games in Malaga!
---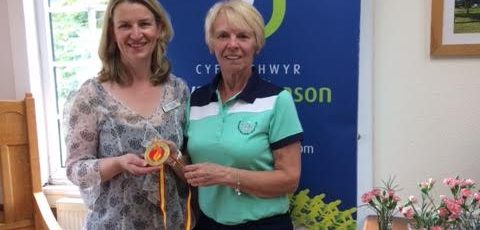 Posted on 12 Jul 2017
We are delighted to report that local athlete, Brenda Roberts from Ruthin, has won a gold medal at the World Transplant Games 2017 in Malaga. Brenda has been a member of the Ruthin-Pwllglas Golf Club for over 40 years and has even held the position of Lady Captain during this period, and now takes a secretarial role within the club, and she plays with a handicap of ten.
Brenda received a lifesaving liver transplant in St James' Teaching Hospital in Leeds in 2012, and entered the British Transplant Games in Bolton and from her performance, was selected to play in the World Transplant Games in Argentina, in 2015. From there, she was selected to play in the 2017 World Transplant Games, and she did wonderfully, winning a gold medal for Team GB.
Brenda triumphed at the World Transplant Games in Malaga, which spanned the week of Sunday the 25th of June 2017 to Sunday the 2nd of July. Brenda attained a Gold Medal in the individual golf event.
The World Transplant Games are held every two years, and represent the largest organ donor awareness event in the world, with participants ranging from 4 years of age to 80, and all recipients of lifesaving organ transplant operations, such as heart transplants, or other life-saving transplants such as lung, liver, pancreas, kidney or bone-marrow.
The World Transplant Games are an event which is intended to give the athletes the chance to thank donors and their families, and also intended to promote organ donation while encouraging transplantees to live a healthy and a fit life.
In 2017, over 1350 athletes from across the world took part in the 15 spots involved, and Team GB topped the medal table with 166 gold, 90 silver, and 104 bronze medals throughout the event. The golf event that Brenda took part in was host to 140 golfers which took part in the games, each in their own category, at Guadalhorce Golf Club.
All at Swayne Johnson solicitors would like to congratulate Brenda on this incredible achievement, and we wish her all the best as her career goes from strength to strength.
---
Further News - The Anglesey Show 2017, Competitions and More! »