Spotlight On: Shaun Hughes
---

Posted on 25 May 2017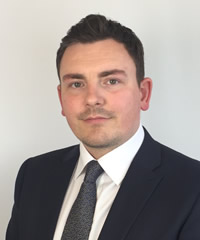 Shaun Hughes is a Private Client Solicitor at Swayne Johnson Solicitors, and is based at our Bangor and Llandudno offices. He explains why he embarked on a career in law and gives a brief insight into his role at Swayne Johnson Solicitors.
Why did you embark on a career in law?
 During my studies at Ysgol Syr Hugh Owen in Caernarfon, I attended a week's experience with a local law firm. The senior partner asked about my plans for the future and I explained that I had always wanted to become either a lawyer or an architect (my dream is to build my own house and be featured on Channel 4's Grand Designs!!). The senior partner turned around and told me "you should definitely take up a career in the law and become a solicitor" – and that is what I did!
After my week's work experience I was offered a post with that local law firm, and continued to work there for a number of years until I attended University.
What exactly is Private Client?
Private Client, is the term given for a wide range of legal matters ranging from wealth management and preservation, to wills, trusts and probate.
Private Client has become an increasingly important area of practice as individuals and business clients seek to preserve, grow and ultimately pass on their assets (money, property, land, businesses etc) in the most tax efficient way.
We have specialist departments here at Swayne Johnson and this is the area that I specialise in. By specialising we have a greater understanding of our clients' needs and wishes and so, can give the best and most efficient service as possible.
I deal with a wide range of Private Client issues, from advising clients on the best type of Will to prepare, preparing Lasting Powers of Attorney for individuals and business clients, estate planning and care home fee planning. I also do a range of Court of Protection applications for individuals who no longer have the mental capacity to deal with their own affairs.
We recently expanded and opened an office in Bangor. This allows me to reach out to our existing clients and to new clients in the Gwynedd and Môn area.
What is your favourite aspect of the job?
I thoroughly enjoy my role within Private Client. The most enjoyable aspect is the high level of client contact. I enjoy meeting new people of all ages, and Private Client allows me to do that. Albeit at times, I deal with clients at their most vulnerable stages in life, for example during a  terminal illness, after the recent death of a loved one to dealing with family members of a client who has sadly lost or lacks mental capacity. I pride myself to giving each of my clients the best possible level of service and advice.
What are your recent achievements?
I recently gained a Distinction in the Society of Trust and Estate Practitioners' ('STEP') Advanced Family Business Advising.
STEP is the leading worldwide professional body for practitioners in the field of trusts, estates and related issues. Members of STEP help families plan their long term financial future, wealth structuring and succession planning.
The dynamics of family businesses are very interesting, in particular balancing the priorities of multiple generations of a family and managing the succession of management and ownership.
I have also recently been appointed as the Secretary for North Wales branch of Solicitors for the Elderly ('SFE').
For further information or advice on Private Client matters or Family Business Succession, please do not hesitate to contact Shaun Hughes on 01248 672640.
Shaun provides a bilingual service and is more than happy to answer any of your queries.
---
Further News - The Home of the Air Ace »