Free Public Talk – Will Wishes for the New Year
---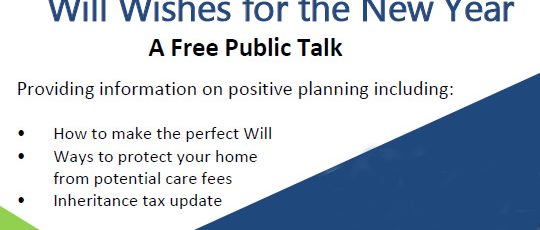 Posted on 07 Mar 2017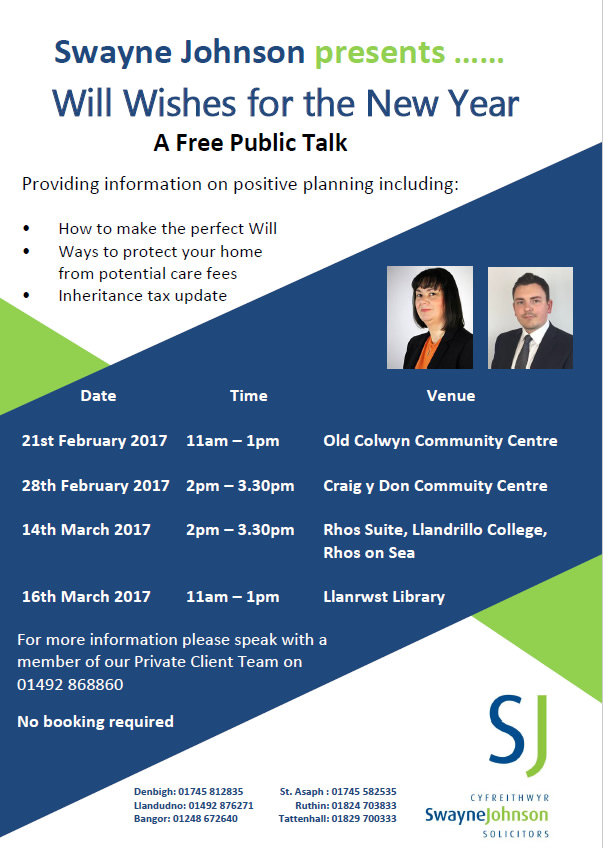 Swayne Johnson Solicitors North Wales are holding a completely free Public Talk which is aimed to educate, inform, and provide you with much needed information about planning for your future.
Featuring ways to make the perfect Will, information regarding protecting your home from potential care home fees, as well as much-needed information about the Government's Inheritance Tax update.
Making a will is often put off, and a lot of it can be attributed to the fact that there's a lot of conflicting information out there which can often mean that there's a minefield to go through in order to get the information you need to be able to make an effective legal document without the risk of misinterpretation marring your wishes.
Swayne Johnson's Free Public Talk aims to answer your questions about making a will in a clear and concise manner, with absolutely no charges involved.
There is a wealth of other useful information as part of Swayne Johnson's Free Public Talk, including advice on how to best protect your home from potential care charges – whether it's yourself or a loved one that will go into a care home in the future.
Understandably, the risk of having to sell your home in order to cover needed fees in the future is something most would sooner avoid. It stands to sense to leave the very most to your family and loved ones possible. Swayne Johnson's Free Public Talk is intended to educate and inform you about the best ways to make sure that a cut isn't taken out of your home for the sake of your care.
The Government's adjustment to Inheritance Tax is also explained within this free public meeting. Please feel free to come by and listen to our speakers explain this adjustment, and stay informed with relevant, useful information which will help you make future decisions which are the best thing for you for the road ahead.
Our speakers, Siân Thompson – based in our branch in Llandudno, deals with a large range of matters including Estate Planning and Trusts, as well as Probate and Court of Protection work. Siân is Society of Trusts and Estate Practitioners (STEP) qualified, and a full member of Solicitors for the Elderly.
Shaun Hughes, based in our Llandudno and Bangor offices is a fluent Welsh speaker, and specialises in Wills and Estate Planning, Court of Protection work, Probate and Estate Administration, Creation of Trusts and Trust Administration, as well as Lasting Powers of Attorney.
If you would like to attend this completely free Public Talk, we are holding it in multiple venues for your convenience.
On the 14th of March 2017, we will be at the Rhos Suite at Llandrillo College, in Rhos on Sea from 2pm – 3.30pm.
On Thursday, the 16th of March we'll be at Llanrwst Library from 11am – 1pm for our final talk on these matters.
Planning for the future is imperative, and with this series of Free Public Talks, you can start to plan accordingly, with good, solid advice from our experts.
Should you find that you can't make any of these dates, you'll be delighted to know that we're holding a Planning Your Retirement Seminar in Plas Hafod, Gwernymynydd, Mold, on Tuesday the 28th of March, 2017, in conjunction with Cullen Wealth.
Alike the Public Talk, the Planning Your Retirement Seminar is absolutely free of charge and open to all who wish to attend.
You'll find a wealth of information courtesy of our expert Director-Solicitor Lynette Viney-Passig, who has a wide range of experience in Wills, Creation of Trusts, Powers of Attorney, Estate Administration, Longterm care planning, Wealth preservation as well as Court of Protection matters – as well as a string of other relevant achievements including acting as a Court Appointed Deputy for clients under the Court of Protection.
Anna Whittingham, and John Milington will also be in attendance to advise in addition.
When it comes to your future and the future of people you care for, it's absolutely imperative that you get it right. We can help you with that – by supplying free, nonbiased and impartial advice.
---
Further News - Swayne Johnson Solicitors Conquer the Llangollen Canal »